Company Formation with e-Resident Card
Estonia is a small country in Northern Europe. Nowadays, Estonia is a homeland to 1.3 million people, that makes it one of the less-populated countries of the European Union, Eurozone, NATO, the OECD, as well as the Schengen area.
However, Estonia is a world leader in the field of digital control and founder of Digital 5 (D5). In December 2014, Estonia became the first country in the world to introduce the concept of e-Residency. The main purpose of the e-Residency program is to make life and business easier for freelancers, business owners, and international partners, as well as any other non-residents, who are related to Estonia. E-Residency in Estonia makes it possible to start a business, expand your business, make investments or study in the European Union.
Company formation with an e-Residency card
What is e-residency?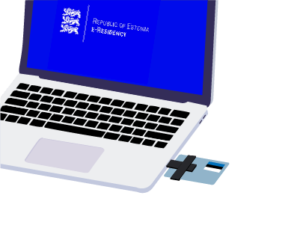 Electronic residency is a state-issued digital identity and an e-Resident status, which provides access to Estonian e-government services and a transparent paperless business environment. E-Residency is issued by the Estonian government to non-citizens of Estonia who do not have the possibility of permanent residence on its territory but would like to have access to e-services of Estonia and the European Union.
Established as a nationwide initiative, the e-Residency program is led by a number of government ministries and institutions, whose efforts are aimed at improving Estonia's digital infrastructure and business environment. But most importantly, thanks to Estonia's EU membership, e-Residents have the right to use electronic services not only in the business environment of Estonia, but in the entire European Union.
However, it should be noted that the e-Resident ID-card does not grant Estonian citizenship nor the right to enter the EU to its holder, as it is not a physical identity card. In addition, e-Residency, as such, is tax-free.
Estonian e-Residency provides digital entrepreneurs with freedom to set up and manage businesses in the EU from anywhere in the world. According to the Estonian Info Register, as of October 2022, more than 94,000 people from 170+ countries have applied for e-Residency, having already created over 22,000 Estonian startups. The application is submitted remotely with the payment of a state fee in the amount of 265 EUR, and the e-Residency kit itself is issued to the applicant personally at one of the approved points of issue. At Company in Estonia OÜ we are happy to guide our clients and help in obtaining an e-Resident card.
First look at doing business in Estonia with e-Residency
Business formation and management entirely online
Founding and running a company from anywhere in the world
Signature and verification of documents in digital format (contracts, annual reports)
Encryption and secure transmission of signed documents
Online banking transactions in an Estonian bank
General accessibility of information about Estonian companies helps Estonia to sustain a transparent and reliable business environment on the Internet and in the labor market. This includes public access to the basic information about the firm, such as ownership, contacts, and basic financial statements.
Who benefits from e-Residency?
Digital Nomad:

Start your paperless company and run it while traveling.

Freelancer:

Create a company with access to the European Single Market.

Start-up Founder:

Grow your company with access to the clientele and EU start-up funding.

Digital Entrepreneur:

Enter the European Single Market without unnecessary bureaucracy and personal presence.
One of the indisputable advantages of e-Residency for a digital entrepreneur is location independence. Travelling and managing your business 100% remotely from anywhere in the world has become easier than ever, whilst access to the Internet will allow you to move abroad at any time without the need to reestablish your company again.
The vastness of the European markets will open new opportunities for development of your business. Resident e-card will allow you to register a company in the EU without physical attendance. It is now possible to own your company without having to appoint a local director, while providers such as PayPal will handle online payments.
Using the software on your computer, an online business development has become a piece of cake. Sign, authenticate, encrypt and send documents digitally. Tax declaration is also done online. You will now have access to the European Single Market and its cross-border capital.
It is time to join the global community. Online collaboration with e-Residents in over 170 countries will help build connections with service providers. The global community of e-Residents will allow you to discover limitless ways to grow your company.
FREQUENTLY ASKED QUESTIONS
How can I apply for e-Residency?

Can I travel/live in the EU having the e-Resident card?

Unfortunately, not. Your status as an electronic resident does not give you permission to travel to Estonia or within the EU without a visa (if you are not a citizen of the European Union). Your e-Resident card cannot be used as a visa for travelling, as it does not contain a photo for physical identification. Moreover, e-Residency does not replace nor provide permission to stay and work in Estonia or within the EU.

Will I be able to open a bank account with the e-Resident card?

You can apply for opening an account at a bank in Estonia, if you have a partner in Estonia/employees who reside in Estonia/you carry out financial activities in Estonia. For more information,

click here

.

When and how can I get my e-Resident card? Can someone pick up my card for me?

As a rule, the entire process from application to picking e-Resident card up takes from 4 to 6 weeks and only the applicant can collect it. In order to do that, you can select the country, where there is the Embassy or Consulate of Estonia. You will have to pick up your card within 6 months. It is important to note that you must receive your e-Resident card yourself, for authentication and verification of your identity your fingerprints will be required. It's impossible for the other person to pick up an e-Residency kit from Estonian embassy or consulate.

Does an e-resident have to pay taxes in Estonia?

Not necessarily. Electronic residency does not mean that you are a tax resident of Estonia. Regardless of your e-resident status, it is always necessary to pay personal income tax in the country in which you are a tax resident. It is essential to understand the difference between e-Residency and Estonian residency. e-Residency grants the owner only digital status, Estonian residency – physical status with social benefits and obligations.

How to declare taxes with the e-Residency card?

Despite the complexity of international taxation, e-residency can make the process of paying taxes more accessible thanks to the e-services in Estonia. If there is an obligation to pay corporate tax in Estonia, the e-resident will be able to declare all taxes completely online.

How is corporate income tax calculated in Estonia?

In Estonia, income tax is calculated on a monthly basis and only after the distribution of profits (for example, upon payment of dividends). The corporate income tax rate in 2020 is

20/80

. Dividends paid on a regular basis are subject to the lower tax rate of

14/86

. When paying dividends to an individual with a reduced tax rate, an additional income tax of

7%

is withheld.

A resident company is obliged to apply a reduced tax rate of

14/86

(

16%

):

In 2019 – by one third of the profit distributed in 2018, from which the resident company paid income tax;
In 2020 – by one third of the profits distributed in 2018 and 2019, from which the resident company paid income tax.

In addition to corporate income tax, e-residents with a company in Estonia will also have to take into account 20% of income tax on a Board Member's fee.

What if my e-resident card is about to expire?

In this case, you need to order a new e-resident card, otherwise the e-services and services of the Republic of Estonia will not be available after the card expires.
Check out the closest e-Residency kit pick-up locations:
| | | |
| --- | --- | --- |
| COUNTRY  | CITY | |
| AUE | Abu Dhabi | |
| Australia | Canberra | |
| Austria | Vein | |
| Belarus | Minsk | |
| Belgium | Brussels | |
| Brasil | Sao Paolo | |
| Canada | Ottawa | |
| China | Beijing | |
| Czech Republic | Prague | |
| Denmark | Copenhagen | |
| Egypt | Cairo | |
| Estonia | Tallinn, Narva, Tartu, Pärnu | |
| Finland | Helsinki | |
| France | Paris | |
| Georgia | Tbilisi | |
| Germany | Berlin | |
| Greece | Athens | |
| Hungary | Budapest | |
| India | New Delhi | |
| Ireland | Dublin | |
| Israel | Tel Aviv | |
| Italy | Rome | |
| Japan | Tokyo | |
| Kazakhstan | Noor Sultan | |
| Latvia | Riga | |
| Lithuania | Vilnius | |
| Netherlands | Hague | |
| Norway | Oslo | |
| Poland | Warsaw | |
| Portugal | Lisbon | |
| Romania | Bucharest | |
| Russian Federation | Moscow, Pskov, St. Petersburg | |
| Singapore | Singapore | |
| South-Africa | Johannesburg | |
| South Korea | Seoul | |
| Spain | Madrid | |
| Sweden | Stockholm | |
| Thailand | Bangkok | |
| Turkey | Ankara | |
| United Kingdom | London | |
| Ukraine | Kiev | |
| United States of America | Washington, San Francisco, New York | |
IMPORTANT! Starting from August 26, 2020, pick-up points in Washington DC, San Francisco, Seoul, and Tokyo are temporarily unavailable.
Obtaining e-residency during Covid-19
Due to the difficult situation of international travel and delayed flights, arrival in Estonia may become an obstacle to obtaining your e-Resident card personally. Fortunately, the e-Residency kit can be easily issued to you at the pick-up point in your homeland, since in most countries there are no restrictions on movement within its borders.
Due to the spread of COVID-19 and associated with it travel restrictions, the usual 6-month period for obtaining an e-Residency kit at Estonian embassies may be extended at the request of the applicant.
An application for an extension of the period for receiving an e-Residency kit must be submitted directly to the embassy of your choice. Otherwise, your card will be sent back to Estonia and destroyed.
How does the e-Residency kit work?
The applicant is issued a plastic smart card with PIN-codes and a chip required for authentication via a USB digital card reader. It is required to install the free ID-software for identification. Thus, by using an ID-card, PIN-codes and a card reader, e-Residents gain access to e-services provided by Estonian state institutions and the private sector.
The ID-system allows you to sign official documents digitally. The digitisation of the Estonian state and society implies that electronic residents can sign agreements and interact digitally with all government institutions and most companies, eliminating the need for physical presence.
Who is eligible to become an e-Resident?
Estonia invites everyone in the world to apply for e-Residency if the following criteria are met:
Reasonable interest in using Estonian electronic services.
Not an Estonian citizen nor a foreigner residing in Estonia with a residence permit.
Step by step application process
STEP 1. Gather documents
Government issued ID: you must provide an image of your travel document. It is important that when you collect your ID-card, you must bring the same document that was used in the application form. If the document expires before you receive your e-Resident card, you must bring an updated, valid copy of your travel document and, if possible, also the document used in your application.
Digital Photo: a passport-sized photo will be required. You can take a photo at home using a digital camera, but we recommend that you check the photo requirements beforehand.
Motivation statement: explain why you are applying for e-Residency. Be sure to mention something noteworthy from your past business experience as well as your future business plans.
Credit Card: government fee must be paid by Visa or Mastercard.
STEP 2. Submit application
Fill in the application online. In accordance with § 112 (2) of the Identity Documents Act, you must complete and submit an application yourself. Submitting an application through an intermediary (including law offices and other service providers) is not allowed.
You will be required to choose a pick-up location when submitting your application. Kindly note that changing this later can be challenging, so choose wisely.
STEP 3. Application review
The review process takes about 4-5 weeks. During this time, you will be contacted by email for additional information during the background check. If approved, it will usually take another 2-5 weeks for your e-Residency kit to be completed and sent to the pick-up location.
STEP 4. Collect e-Residency kit
Once your e-Residency kit is delivered to the pick-up point, you will be sent an email with instructions or an invitation to the selected pick-up location. Please be aware that you will be asked to give your fingerprints. The e-Residency kit must be collected within 6 months. Otherwise, the document will be sent back to Estonia and destroyed.
Change of pick-up location
Since Covid-19 has complicated the situation with international air traffic, you have the right to use this option to find a suitable location to receive your e-Resident card. In order to redirect your document from one embassy to another, please contact the relevant Estonian embassy in a particular country.
Before changing the point of issue, additional state fees must be paid. More detailed information about the process can be found on the website of the Estonian Ministry of Foreign Affairs. When changing the pick-up point of the card from one Estonian embassy to another, an additional fee of 80 EUR will be charged. Changing the pick-up location from the Estonian service point to the Estonian embassy will cost 30 EUR.
The e-Resident card is about to expire. What do I do?
If your e-Residency card expires soon and you cannot get a new one due to travel restrictions caused by Covid-19, the best solution would be to use the Smart-ID platform. It is an authentication service provided by SK ID Solutions (an organisation independent from the Estonian government).
A Smart-ID account can be created exclusively by electronic residents, whose card is still valid, and use the usual e-services even after the expiration of the e-Residency. Thanks to Smart-ID, you will be able to manage your business and use electronic government services until it is safe to obtain a new e-Resident card.
How to open a company in Estonia without e-Residency
If there is no option to become an e-Resident, Company in Estonia OÜ can help you open a company in Estonia by visit or by power of attorney. If a company is established by power of attorney, our lawyers will be able to act on your behalf. To do this, you do not need to present an electronic residence permit card or come to Estonia. The process of establishing a company by proxy takes about a month. For more information, please contact our consultants.
HOW TO videos
HOW TO useyour e-Residency Digital ID-Card (DigiDoc4 version)
HOW TO Register a Company
HOW TO Choose an e-Residency Service Provider
HOW TO Use Estonian e-Services
HOW TO Business Banking Basics