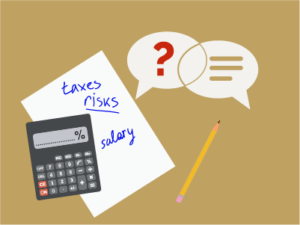 Accounting is an integral part of doing business on behalf of an Estonian company, the purpose of which is to keep records and obtain an overview of the economic performance and financial state of the company.
All companies and branches of foreign companies operating in Estonia are subject to accounting. Accounting for each company must comply with government-set standards for the results to be comparable and understandable.
Purposes
While working with us, our clients quite often need some professional advice and help. For these purposes, Company in Estonia OÜ has developed the individual accounting consultation service.
The consultation aims to introduce the basics of Estonian taxation, accounting and familiarise a client with the Estonian Tax and Customs Board requirements.
Company in Estonia OÜ offers consultation with one of the company's accountant in order to have a complete understanding of the requirements and responsibilities of an Estonian company. Within the consultation, accountants will be glad to answer all questions of your interest.
During the consultation, you can learn about different kinds of enterprising, discuss Estonian taxation and legislation and get to know the requirements for accounting of the Estonian company. The exact content and cost depend on your enquiries.
The accountants of the Company in Estonia OÜ are happy to recommend ways for optimising taxes of the Estonian company, assist your company by putting bookkeeping in order and submit declarations to the Estonian Tax and Customs Board.
Using the following page, you can choose one of our accountants for your consultation considering the area of expertise and language skills.
Potential topics to discuss during the consultation:
Introduction to accounting in Estonia
Dividends and taxes of the Estonian company
Employment
Salary calculation
Tax agreements between Estonia and other countries
Identification of potential risks associated with the activity of a company
Consultation procedure:
Choose the accountant you wish to consult with.
Please send your enquiries that we could assess the scope and cost of the consultation.
Receive price offer with comments.
Choose the time, language and form for your consultation (it could be arranged via phone call, Skype, Zoom, Viber, WhatsApp or sent by e-mail).
Company in Estonia OÜ offers accounting services in Estonia, including  accounting services for Estonian companies that already have a VAT number, as well as accounting services for companies without a VAT number. We have successful experience in various business segments and are currently developing over 900+ companies in Estonia and abroad. Therefore, our company additionally offers clients assistance in registering a VAT number in Estonia, assistance in obtaining an EORI number, and drawing up an annual report.