Exploring Estonian business environment — starting a business in Estonia and its further development.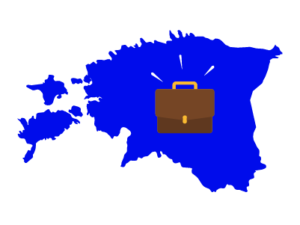 Estonia is a small country in Northern Europe that has built a digital society over a couple of decades. So far, the country with a population of less than 2 million is leading in the IT sector and is referred to as a 99% digitalised European country. Hence, unlimited tech opportunities have contributed to the fact that Estonia has drawn more and more attention as a prominent European entrepreneurial hub over the years. In our previous blog article, we covered the advantages of the Estonian business market and explored the reasons behind this, among which is a favourable tax system, fintech opportunities and talent pool. All of that constitutes a good motivation for setting up a business in Estonia.
Entrepreneurs worldwide intend to open a business in Estonia where legislation welcomes every business person, and various programs and companies are happy to offer their services on business formation development.
E-business and e-company are widely and fairly used terms when speaking about doing business in Estonia. Starting from the very first steps made online and continuing to fully remote management of a company, we may say that a business established in Estonia is an e-business.
Innovative programme e-Residency allows every willing foreigner to set up a company in Estonia remotely by submitting an application online. In short, e-Residency enables non-citizens to enter government portals online and is a great alternative way for company formation in Estonia. It also simplifies the further process of company management, making it remote.
Besides e-Residency, there are three more ways for setting up business in Estonia. Among which are company establishment by power of attorney and by a visit to the country. It is advisable to request assistance when starting a company by proxy or by visit, as the process involves lots of legal nuances, professional assistance won't hurt.  When cooperating with the authorised service provider, both ways guarantee the successful result — an active company in Estonia.
Estonian business market offers a business for sale, and this is the last option for obtaining a company in Estonia. Buying an existing company is still a process as the rest ways of company formation. It takes time and effort, so it is worth considering consult professionals.
Once all the initiation procedures are undergone, and you have your registered company, there are still many aspects to work on. Having a business means its constant development and apart from 'artistic' parts such as gaining and maintaining reputation, PR, establishing connections, branding and looking for talents — business involves endless legal aspects.
Legal support for a business is the key to the effective functioning of a company, especially if it's the case with foreigners starting a company that may be not so well familiarised with the Estonian laws and requirements. In that way, it is a traditional method to seek professionals who can help you with legal advice, documentation, legal opinion, audit, etc.
If you decide to base your business here in Estonia, you will find the support you are looking for. Various service providers, IT companies and their technologies, innovative programmes will lead your business to a sufficient level — but you should take the first effort. Please don't wait and join thousands of entrepreneurs that are basing their businesses in small North European country. Company in Estonia OÜ will be glad to help.