In December 2014, Estonia became the first country to introduce the concept of e-Residency, thereby providing an opportunity to start a business online. Let's take a closer look at company formation with e-Residency.
The main purpose of the e-Residency program is to make life and business easier for freelancers, business owners, and international partners, as well as any other non-residents who are related to Estonia. E-Residency in Estonia makes it possible to start a business, expand your business, make investments or study in the European Union.
THE CONCEPT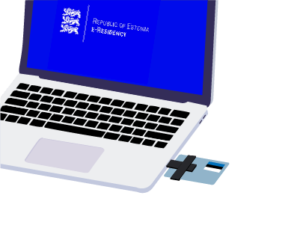 Electronic residency is a state-issued digital identity and an e-Resident status, which provides access to Estonian e-government services and a transparent paperless business environment. The Estonian government issues E-Residency to non-citizens of Estonia who do not have the possibility of permanent residence on its territory but would like to have access to Estonia's e-services and the European Union.
Established as a nationwide initiative, the e-Residency program is led by many government ministries and institutions whose efforts aim to improve Estonia's digital infrastructure and business environment. But most importantly, thanks to Estonia's EU membership, e-Residents have the right to use electronic services not only in the business environment of Estonia but in the entire European Union.
However, we should note that the e-Resident ID-card does not grant Estonian citizenship nor the right to enter the EU to its holder, as it is not a physical identity card. Besides, e-Residency, as such, is tax-free.
Estonian e-Residency provides digital entrepreneurs with the freedom to set up and manage businesses in the EU from anywhere in the world. According to the Estonian Info Register, as of October 2020, more than 73,000 people from 170+ countries have applied for e-Residency, having already created over 14,000 Estonian startups. The application is submitted remotely with a state fee payment in the amount of 100-120 EUR. The e-Residency kit itself is issued to the applicant personally at one of the approved points of issue. At Company in Estonia OÜ we are happy to guide our clients and help obtain an e-Resident card.
KEY FACTORS CHARACTERISING COMPANY FORMATION WITH E-RESIDENCY
Business formation and management entirely online
Founding and running a company from anywhere in the world
Signature and verification of documents in digital format (contracts, annual reports)
Encryption and secure transmission of signed documents
Online banking transactions in an Estonian bank
General accessibility of information about Estonian companies helps Estonia to sustain a transparent and reliable business environment on the Internet. This includes public access to the company's basic information, such as ownership, contacts, and basic financial statements.
WHO BENEFITS FROM E-RESIDENCY?
Digital Nomad: Start your paperless company and run it while traveling
Freelancer: Create a company with access to the European Single Market
Start-up Founder: Grow your company with access to the clients and EU startup funding
Digital Entrepreneur: Enter the European Single Market without unnecessary bureaucracy and personal presence.
One of the indisputable advantages of e-Residency for a digital entrepreneur is location independence. Traveling and managing your business 100% remotely from anywhere in the world has become easier than ever, whilst access to the Internet will allow you to move abroad at any time without the need to re-establish your company again.
The vastness of the European markets will open new opportunities for the development of your business. The resident e-card will allow you to register a company in the EU without physical attendance. It is now possible to own your company without appointing a local director, while providers such as PayPal will handle online payments.
Using the software on your computer, online business development has become a piece of cake. Sign, authenticate, encrypt and send documents digitally. Tax declaration is also made online. You will now have access to the European Single Market and its cross-border capital.
It is time to join the global community. Online collaboration with e-Residents in over 170 countries will help build connections with service providers. The global community of e-Residents will allow you to discover limitless ways to grow your company.
THE PROCESS
To get an Estonian digital identity, you need to submit your application on the official website of e-Residency in Estonia. The form is pretty straightforward, asking strictly for the necessary information. Submission must also include a motivation statement and digital photo. At this point, you will also be asked to choose a pick-up location.
The review process takes about 4-5 weeks. During this time, you will be contacted by email for additional information during the background check. If approved, it will usually take another 2-5 weeks for your e-Residency kit to be completed and sent to the pick-up location.
As a rule, the entire process from application to picking an e-Resident card up takes from 4 to 6 weeks, and only the applicant can collect it. To do that, you can select the country where there is the Embassy or Consulate of Estonia. You will have to pick up your card within 6 months. It is important to note that you must receive your e-Resident card yourself as for authentication and verification of your identity, your fingerprints will be required. It's impossible for the other person to pick up an e-Residency kit from the Estonian embassy or consulate.
If you want to become an e-Resident and start your business in Estonia, Company in Estonia OÜ would like to help. You can find more information regarding company establishment with e-Residency on our website. Feel free to contact our team to receive a consultation.